WSJ Drama Editor Terry Teachout on Jazz Greats Louis Armstrong & Duke Ellington
This week on "The Learning Curve," Gerard and guest co-host Kerry McDonald continue our celebration of Black achievements with Terry Teachout, drama critic at The Wall Street Journal, and author of such books as Pops: A Life of Louis Armstrong and Duke: A Life of Duke Ellington. They explore how Louis Armstrong became such a brilliant, internationally beloved musician, and the indispensable genius of the distinctly American art form known as jazz. Teachout talks about the influence of Armstrong's roots in New Orleans on his long career spanning several decades, from the Jazz Age of the 1920s-30s into the 1960s with his #1 hit, "Hello Dolly." They then turn to Duke Ellington, described by Teachout as the greatest jazz composer of the 20th century, whose works were complex and ingenious, yet accessible, and whose demeanor was polished and elegant. Best known for classics like "Take the 'A' Train" and "Mood Indigo," he led the 1920s-30s-era orchestras at the famous Cotton Club. As a writer and former jazz musician himself, Teachout offers insights into what educators, students, and aspiring young musicians can learn most from these widely contrasting giants of jazz about their craft, as well as about race relations in early 20th-century America. The interview concludes with a reading from Teachout's biography of Armstrong, Pops.
Stories of the Week: In Chicago, Mayor Lori Lightfoot and the school district reached a deal with the teachers union to reopen elementary and middle schools in March, after 10 months of remote instruction. Is there a correlation between school reopening and factors such as the strength of union leadership, or competition from private alternatives? Colby College in Maine will be the first small liberal arts school to launch a new Artificial Intelligence (AI) institute, that will integrate machine learning and big data into its instruction and research programs. AI could change teaching and learning forever – presenting both challenges and opportunities.
Guest: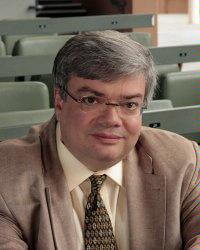 Terry Teachout is the drama critic of The Wall Street Journal, the critic-at-large of Commentary, and the author of "Sightings," a column for the Journal about the arts in America. He also writes about the arts on his blog, "About Last Night" (www.terryteachout.com), and is a panelist on Three on the Aisle, a podcast hosted by American Theatre magazine. Satchmo at the Waldorf, his first play, has been produced off Broadway and in Chicago, Houston, Los Angeles, Philadelphia, San Francisco, Washington, D.C., and other cities throughout America. He directed Satchmo at Palm Beach Dramaworks in 2016 and at Houston's Alley Theatre in 2018. His books include Duke: A Life of Duke Ellington and Pops: A Life of Louis Armstrong.
The next episode will air on Wednesday, February 24th, 2021 at 12 pm ET with guest, Ayaan Hirsi Ali, the founder of the AHA Foundation, a research fellow with the Hoover Institution at Stanford University, and the author of the books Prey: Immigration, Islam, and the Erosion of Women's Rights; Infidel: My Life, and Nomad: From Islam to America – A Personal Journey Through the Clash of Civilizations.
*Programming note: Co-host Cara Candal is off this week, but will return next week.
Tweet of the Week:
I'm glad the media is taking note of what @CRPE_UW has been documenting. Opportunity for these orgs to be part of a longer term transformation intrigues me.
'Learning pods' taking root in Black, Latino neighborhoods https://t.co/pT1DtMeapg via @BostonGlobe

— Michael B. Horn (@michaelbhorn) February 15, 2021
News links:
A Small College Hopes to Claim Artificial Intelligence for the Liberal Arts
https://www.edsurge.com/news/2021-02-11-a-small-college-hopes-to-claim-artificial-intelligence-for-the-liberal-arts
Chicago Mayor Lori Lightfoot on What She Learned From Battling the Teachers' Union
https://www.nytimes.com/2021/02/14/us/chicago-mayor-lori-lightfoot-on-what-she-learned-from-battling-the-teachers-union.html
Get Updates on Our Education Research
Related Posts:
https://pioneerinstitute.org/wp-content/uploads/TLC-template-6.png
512
1024
Editorial Staff
https://pioneerinstitute.org/wp-content/uploads/logo_440x96.png
Editorial Staff
2021-02-17 10:40:24
2023-08-26 11:38:23
WSJ Drama Editor Terry Teachout on Jazz Greats Louis Armstrong & Duke Ellington