UVA Law Prof. G. Edward White on Law, Race, & the U.S. Supreme Court in American History
This week on "The Learning Curve," as the nation prepares for the likely confirmation of its first Black female U.S. Supreme Court justice, Cara Candal and Gerard Robinson talk with Dr. G. Edward White, David and Mary Harrison Distinguished Professor of Law at the University of Virginia School of Law, and author of the three-volume book, Law in American History. Professor White draws on his experiences clerking for Chief Justice Earl Warren to share information about Warren's character, and how his landmark Brown v. Board of Education opinion has shaped America's legal culture and access to education in our era. They explore Professor White's legal history trilogy, and talk about what teachers and students today should know about the Civil War and ending slavery, from the Dred Scott decision of 1857 through the Thirteenth Amendment. They delve into the second volume, from Reconstruction, industrialization, and immigration, to the rise of Jim Crow; and the third volume on massive legal changes since World War II. The interview concludes with a reading by Professor White from his trilogy.
Stories of the Week: U.S. Education Secretary Miguel Cardona is fielding criticism from the left on loan forgiveness, and the right on mask mandates and hot-button curriculum issues. The Washington Post editorial board calls out the Biden administration for proposed new federal rules that will likely hamper charter schools' growth.
Guest: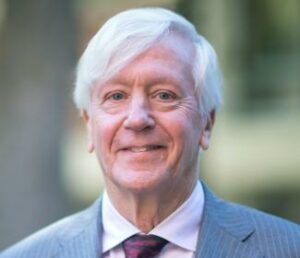 Dr. G. Edward White is David and Mary Harrison Distinguished Professor of Law and University Professor at the University of Virginia School of Law. He is the author of twenty books, on subjects ranging from legal and constitutional history, to judicial biography, and the life of Alger Hiss, to baseball. Professor White's most recent books include Law in American History, Volume III: 1930-2000; Law in American History: Volume II, From Reconstruction Through the 1920s; Law in American History: Volume I, From the Colonial Years Through the Civil War; and American Legal History: A Very Short Introduction, all from Oxford University Press. He is also the editor of the John Harvard Library edition of Oliver Wendell Holmes's The Common Law. White's books have won numerous awards, including final listing for the Pulitzer Prize in history in 1968. He was law clerk to Chief Justice Earl Warren of the Supreme Court of the United States for the 1971 Term. White is a member of the American Law Institute, the American Academy of Arts and Sciences, and the Society of American Historians. He is a member of the bars of Virginia, the District of Columbia, and the Supreme Court of the United States. White received his B.A. from Amherst College, his Ph.D. in American Studies from Yale, and his J.D. from Harvard Law School.
The next episode will air on Weds., April 13th, with Denisha Merriweather, the Director of Public Relations and Content Marketing at the American Federation for Children and Founder of Black Minds Matter.
Tweet of the Week:
I had a fascinating talk with @EdNCES's Peggy Carr, who faces the daunting challenge of separating the "noise" from this year's @NAEP_NCES to report "true change in students' performance." @The74 https://t.co/WiOSdEn6RG

— Linda Jacobson (@lrj417) March 28, 2022
News Links:
Politico: If you can't name Biden's Education secretary, you probably aren't alone
https://www.politico.com/news/2022/04/02/education-secretary-miguel-cardonas-first-year-in-office-on-message-but-out-of-touch-00021623

Washington Post editorial: "The Biden administration's sneak attack on charter schools"
https://www.washingtonpost.com/opinions/2022/04/02/biden-administrations-sneak-attack-charter-schools/

Get new episodes of The Learning Curve in your inbox!
Recent Episodes:
https://pioneerinstitute.org/wp-content/uploads/TLC-template-5-1.png
512
1024
Editorial Staff
https://pioneerinstitute.org/wp-content/uploads/logo_440x96.png
Editorial Staff
2022-04-06 10:57:40
2022-04-06 10:57:40
UVA Law Prof. G. Edward White on Law, Race, & the U.S. Supreme Court in American History