UK's Charles Moore on Lady Margaret Thatcher & Cold War Leadership
This week on "The Learning Curve," co-hosts Cara Candal and Gerard Robinson talk with Charles Moore, a columnist for The Daily Telegraph and The Spectator, and the authorized, three-volume biographer of Lady Margaret Thatcher. Lord Moore explains why Lady Thatcher is considered the most important female political figure of the 20th century, and reviews the challenges she faced at home and abroad, from trade union strikes to high inflation rates and political discord. They talk about Prime Minister Thatcher partnering with American President Ronald Reagan and standing in solidarity with Poland's Lech Walesa to face down Soviet communism. Lord Moore describes her middle-class background and a leadership style that led to her 12-year tenure as prime minister in the male-dominated arena of British politics (including nearly 700 sessions of the world-renowned Prime Minister's Questions in the House of Commons). They also discuss "Thatcherism," her foundational economic principles and their applicability to other domestic policy topics, as well as lessons for today's world. The interview concludes with Lord Moore reading from his biography of Lady Thatcher.
Stories of the Week: Attorneys general from 14 states are suing the Biden administration over the Department of Justice's calls to monitor parental protests at school board meetings. In Alabama, a group is seeking to address the teacher shortage by suspending the requirement to pass a Praxis content mastery exam.
Guest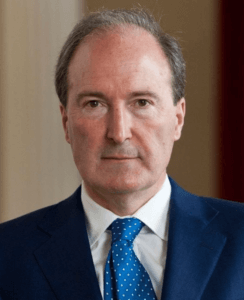 Charles Moore is currently a columnist of The Daily Telegraph and The Spectator. He was editor in chief of The Spectator, (1984-90); The Sunday Telegraph, (1992-95); and The Daily Telegraph, (1995-2003). Lord Moore is the authorized biographer of Lady Margaret Thatcher, published in three volumes, Margaret Thatcher: From Grantham to the Falklands, (2013); Margaret Thatcher: At Her Zenith – In London, Washington, and Moscow, (2015); and Margaret Thatcher: Herself Alone, (2019). The first volume won the Elizabeth Longford Prize for Historical Biography, the HW Fisher Best First Biography Prize, and Political Book of the Year at the Paddy Power Political Book Awards. In July 2020, Moore was appointed by the Prime Minister of the United Kingdom to the House of Lords, with the title Lord Moore of Etchingham. He was educated at Eton and Trinity College, Cambridge, where he read history. In 2007, he was awarded an Honorary Doctor of Letters from the University of Buckingham.
The next episode will air on Weds., March 23rd, with Dr. Arthur Levine, a scholar with New York University's Steinhardt Institute for Higher Education Policy, a senior fellow and president emeritus of the Woodrow Wilson National Fellowship Foundation, and president emeritus of Columbia University's Teachers College.
Tweet of the Week
School districts risk losing existing superintendent talent and bypassing promising future leaders. Here are some key reasons why. https://t.co/r9GBQ55mNB

— Education Week (@educationweek) March 14, 2022
News Links
AGs sue Biden administration over DOJ's call to investigate protesting parents
https://www.thecentersquare.com/national/ags-sue-biden-administration-over-dojs-call-to-investigate-protesting-parents/article_079f53f2-a0ca-11ec-81d0-ff71d478d32a.html
Alabama officials consider suspending Praxis teacher test requirement
https://www.al.com/educationlab/2022/03/alabama-officials-consider-suspending-praxis-teacher-test-requirement.html
Get new episodes of The Learning Curve in your inbox!
Related Content
https://pioneerinstitute.org/wp-content/uploads/TLC-MT.png
512
1024
Editorial Staff
https://pioneerinstitute.org/wp-content/uploads/logo_440x96.png
Editorial Staff
2022-03-16 11:23:29
2022-03-16 11:23:29
UK's Charles Moore on Lady Margaret Thatcher & Cold War Leadership