Anita Worden Takes Immigrants' Skills to the Next Level
This week on JobMakers, Host Denzil Mohammed talks with Anita Worden, renewable energy business entrepreneur, about her work to improve representation of women in crucial economic sectors like technology, a place where they can innovate and have real impact.  Anita was born in England of Indian parents, grew up in Algeria, moved to the U.S. as a teenager, and attended MIT. While still a student, she co-founded her first company, Solectria Corporation, in 1989, and then went on to found Solectria Renewables in 2005, both of which were acquired.  Now retired, Anita is working to promote tech as a viable, lucrative and satisfying career choice for women and girls, just as she's educating Americans about her passions, climate change and shifting the narrative around immigrants in the U.S.
Guest: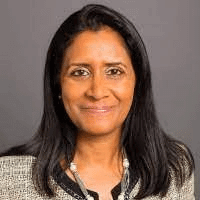 Anita Worden is a Partner at Lightspeed Energy, where she helps develop partnerships, technology and innovative products and system designs for renewable energy and transportation, including energy systems for advanced electric vehicles. She co-founded Yaskawa Solectria Solar, Solectria Renewables, LLC, and Solectria Corporation, businesses which she led over the last 27 years. Anita is an advocate for ESOL programs in Lawrence and surrounding areas to socially and economically uplift immigrants and refugees and capitalize on their skills. She is a Trustee of the Essex County Community Foundation, Northern Essex Community College, Enterprise Bank, and Youth Development Organization. She earned an engineering degree from MIT.
Get new episodes of JobMakers in your inbox!
Related Posts
https://pioneerinstitute.org/wp-content/uploads/Guest-christina-qi-14.png
1570
3000
Editorial Staff
https://pioneerinstitute.org/wp-content/uploads/logo_440x96.png
Editorial Staff
2021-07-22 11:41:31
2021-07-22 11:41:31
Anita Worden Takes Immigrants' Skills to the Next Level