Independent Institute's Dr. Morgan Hunter on Teaching Greco-Roman History to High Schoolers
This week on "The Learning Curve," co-hosts Gerard Robinson and Cara Candal talk with Dr. Morgan Hunter, Research Fellow at the Independent Institute in California, and co-author with Dr. Victor Davis Hanson and Dr. Williamson Evers, of the white paper, Is It Time for a "490 B.C. Project"?: High Schoolers Need to Know Our Classical Heritage. Dr. Hunter shares the main arguments from her report, on why studying antiquity is vital to the education of young people in the early 21st century. She explores how Greco-Roman history and culture have influenced great statesmen, artists, and writers through the ages, from Shakespeare to the American Founders and Winston Churchill. They then discuss the importance of the enduring wisdom of the ancients in the writings of African-American leaders such as Frederick Douglass and MLK, as noted recently by Cornel West. They delve into lessons students can draw from Cicero, other key figures of the Roman Republic, and from the Athenian democracy, about self-government in the 21st century.
Stories of the Week: Writing in EducationNext, Chad Aldeman and recent Learning Curve guest Marguerite Roza suggest targeted approaches to spending stimulus funds for education, such as tutoring and summer programs, rather than hiring more staff. In Forbes, EdChoice's Mike McShane shares the impressive list of states that have enacted or expanded school choice programs that will give tens of thousands more families access to better educational options.
The next episode will air on Wednesday, July 21st, 2021 at 12 pm ET with guest, Mariam Memarsadeghi, co-founder and co-director of Tavaana, a civic education capacity building initiative for a free and open Iran. She was among the 43 individuals whose portrait President George W. Bush painted for his new book, Out of Many, One: Portraits of America's Immigrants.
Guest: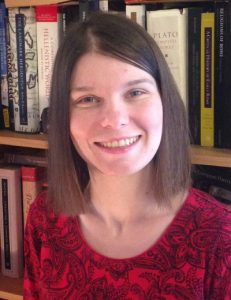 Dr. Morgan Hunter is a Research Fellow at the Independent Institute. In 2020, with Dr. Victor Davis Hanson and Dr. Williamson Evers, she co-authored the white paper, Is It Time for a "490 B.C. Project"?: High Schoolers Need to Know Our Classical Heritage. Hunter has taught classical philosophy, political science, 19th-century U.S. social history, ancient and medieval political philosophy, and Latin at UC Berkeley, as well as Latin at the Bowman International School. In her work, she has a reading knowledge of Latin, Greek, French, German, Italian, and Russian. She received her B.A. summa cum laude in Latin and Greek from Santa Clara University and her M.A. and Ph.D. in Classics from the UC Berkeley.
Tweet of the Week:
14-year-old Zaila Avant-garde wins the 2021 Scripps National Spelling Bee https://t.co/PCFXppwZSL

— CBS News (@CBSNews) July 9, 2021
News Links:
McShane op-ed: School Choice Keeps Winning
https://www.forbes.com/sites/mikemcshane/2021/07/12/school-choice-keeps-winning/?sh=3d54fff06a97
Roza: New Federal Money is Coming to Schools. There Are Other Options for Spending it Than Hiring Lots More Staff
https://www.educationnext.org/new-federal-money-coming-to-schools-other-options-for-spending-it-than-hiring-more-staff/
Get new episodes of The Learning Curve in your inbox!
Related Posts
https://pioneerinstitute.org/wp-content/uploads/Copy-of-TLC-template-20.png
512
1024
Editorial Staff
https://pioneerinstitute.org/wp-content/uploads/logo_440x96.png
Editorial Staff
2021-07-14 12:01:22
2023-08-26 10:38:58
Independent Institute's Dr. Morgan Hunter on Teaching Greco-Roman History to High Schoolers