SABIS® President Carl Bistany on International Education, Charter Public Schools, & At-Risk Students
This week on "The Learning Curve," Cara and Gerard are joined by Carl Bistany, the president of SABIS® Educational Systems, an education company founded over 130 years ago that serves young women in the Middle East, and poor and minority students in the U.S. Carl describes SABIS'® successful model for educating underserved and at-risk students, especially its use of regular, consistent testing, to bridge achievement gaps among those who are often seen as the most challenging to educate. He describes some of his proudest accomplishments, as well as barriers that have made it difficult, politically, for for-profit school management companies like SABIS® to operate and expand their successful models. They also explore some of the most promising developments in K-12 education reform internationally, and in the U.S.
Stories of the Week: Ohio lawmakers have passed a proposal that would overhaul the criteria for the state's largest private school tuition program, to serve more low-income students currently enrolled in public schools whose performance ranks in the bottom fifth. A study by Bellwether Education found that the rate of teacher retirement in six of seven states reviewed has declined by five percent. Has COVID-related virtual instruction helped retain veteran faculty?
The next episode will air on Wednesday, December 2nd, 2020 at 12 pm ET with guest, Caroline Hoxby, the Scott and Donya Bommer Professor of Economics at Stanford University and a Senior Fellow of the Hoover Institution.
Guest: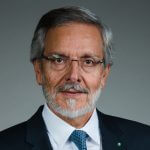 Carl Bistany is a board member and the president of SABIS®, an education business that started in 1886 and has grown to become a multi-national education network that manages Pre-K/K-12 schools and employs over 9,000 professionals. Today, the SABIS® Network educates over 70,000 students in public and private schools and has an active presence in 21 countries on five continents. Carl was the 2017 International President of the Chief Executives' Organization (CEO). Among his involvement on boards around the world, he served as a senior member of the Executive Board of the Institute for Social and Economic Policy in the Middle East at the John F. Kennedy School of Government, Harvard University. Carl is also a member of the World Bank Advisory Group on Engaging the Private Sector, and the co-author of Last Bell: Breaking the gridlock in education reform. He is an alumnus of Syracuse University and Harvard, having completed the Harvard Business School Executive Education Owner/President Manager program.
Tweet of the Week:
https://t.co/BxSyz5NzhX@VisitMA @SeePlymouth @SmokeSygnals @GSMD @plimoth @PilgrimHMuseum

— Plymouth 400 Legacy (@Plymouth_400) November 21, 2020
News Links:
Ohio lawmakers OK revamp of eligibility for school vouchers
https://apnews.com/article/legislature-ohio-poverty-school-vouchers-abf168871ded48f276bd159ed72a28d7
Contrary to Predictions, Rate of Teacher Retirements Looks to Decline in 2020
https://thejournal.com/articles/2020/11/18/contrary-to-predictions-rate-of-teacher-retirements-looks-to-decline-in-2020.aspx?admgarea=News1
Get Updates on Our Education Research
Related Posts
https://pioneerinstitute.org/wp-content/uploads/CarA-Candal-Gerard-Robinson-1.png
512
1024
Editorial Staff
https://pioneerinstitute.org/wp-content/uploads/logo_440x96.png
Editorial Staff
2020-11-25 10:06:31
2023-08-26 12:02:51
SABIS® President Carl Bistany on International Education, Charter Public Schools, & At-Risk Students