Untangling Variants & Outbreaks: Can Vaccines & Natural Immunity Outrun Delta?
Hubwonk host Joe Selvaggi talks with author, surgeon, and public health expert Dr. Marty Makary about the COVID-19 Delta Variant, the durability of natural and vaccinated immunity, the benefits of booster shots, and the health risks for children as we move into the fall.
Guest: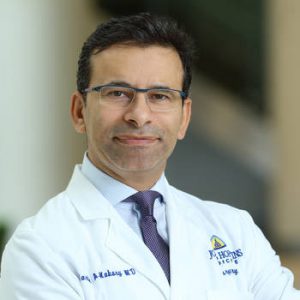 Dr. Martin Makary is a surgical oncologist and chief of the Johns Hopkins Islet Transplant Center. He is a clinical lead for the Johns Hopkins Sibley Innovation Hub and serves as Executive Director of Improving Wisely, a Robert Wood Johnson Foundation project to lower health care costs in the U.S. by creating measures of appropriateness in health care. Dr. Makary's research focuses on the creation and evaluation of new health care innovations. He is the creator of the Surgery Checklist, publishing its first description and later served on the W.H.O. Safe Surgery Saves Lives committee. He led the W.H.O. workgroup to create global measures of surgical quality. Dr. Makary has published over 200 scientific articles, including the first description of "frailty" impacting surgical outcomes, the original studies on safety culture measurement in hospitals, and an evaluation of the Orphan Drug Act. He is a leading voice for physicians, writing in The Wall Street Journal, and is the author of The New York Times best-selling book, Unaccountable, about patient safety and physician-led transparency efforts in health care. Dr. Makary is the founder of the Johns Hopkins Center For Surgical Outcomes Research and Clinical Trials and is the recipient of numerous grants to evaluate the effectiveness of new surgical technology and new interventions in health care. He serves jointly as a professor of surgery at the Johns Hopkins University School of Medicine and a professor of health policy & management at the Johns Hopkins Bloomberg School of Public Health. He has pioneered new pancreas operations at Johns Hopkins, including the laparoscopic Whipple procedure. He performed the first series of laparoscopic islet auto-transplantation and other laparoscopic operations in field of surgery. Dr. Makary is among the few highest-volume laparoscopic pancreas surgeons in the United States. He is the recipient of the National Pancreas Foundation Nobility in Science Award. Dr. Makary is a graduate of Bucknell, Thomas Jefferson and Harvard University. He completed his surgical training at Georgetown University and his fellowship at Johns Hopkins Hospital.
Get new episodes of Hubwonk in your inbox!
Recent Episodes:
https://pioneerinstitute.org/wp-content/uploads/Hubwonk-Template-37.png
512
1024
Editorial Staff
https://pioneerinstitute.org/wp-content/uploads/logo_440x96.png
Editorial Staff
2021-08-31 10:35:15
2021-08-31 10:36:16
Untangling Variants & Outbreaks: Can Vaccines & Natural Immunity Outrun Delta?