Mayor Christenson on How Immigrants Enrich His City
This week on JobMakers, host Denzil Mohammed talks with Gary Christenson, Mayor of Malden, the second most diverse city in Massachusetts, with almost 43 percent of its residents born outside of the United States. It's also home to The Immigrant Learning Center, the co-producer of this podcast. It's always been a gateway city for immigrants and refugees: from Jews fleeing for safety after World War II, to Eastern Europeans and Vietnamese seeking democracy and freedom, to immigrants from China, Morocco, Brazil and Haiti seeking the American Dream. For Mayor Christenson, it is this diversity that gives Malden its strength, and assures him of a strong, proud future. He looks to the revitalization of downtown with its disproportionate number of immigrant-owned businesses, and talks with us about managing the relationships between long-time residents and new immigrants, the reaction of the city to hate crimes after the Boston Marathon bombing, how much immigrants have given back to their new home, and his stance on sanctuary cities, in this week's JobMakers.
Guest: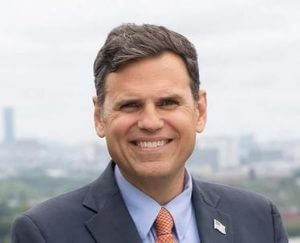 Gary Christenson has been Mayor of Malden, Massachusetts since 2012. His political career began as a budget analyst, revenue director and special assistant reporting to Tom Finneran on the Massachusetts House Ways and Means committee from 1994-1997. He also served as budget director at the Middlesex County Sheriff's Office. Christenson was appointed to the Malden School Committee, and served as a city councillor of Ward 1 in Malden for seven years. He became Chairman of the Finance Committee and then City Council President, before being elected mayor. Christenson is a triple alumnus of Suffolk University. He has received a Bachelor's degree in political science science and business management in 1990 and a Masters Degree in public administration in 1992. In 2003, Gary received his Juris Doctorate from the Suffolk University Law School.
Get new episodes of JobMakers in your inbox!
Recent Episodes:
https://pioneerinstitute.org/wp-content/uploads/Guest-christina-qi-30.png
1570
3000
Editorial Staff
https://pioneerinstitute.org/wp-content/uploads/logo_440x96.png
Editorial Staff
2021-10-28 10:04:00
2021-10-28 11:00:39
Mayor Christenson on How Immigrants Enrich His City