Josh Feast Answers the Call with AI
This week on JobMakers, Guest Host Jo Napolitano talks with Josh Feast, the CEO and Co-Founder of Cogito, a Boston-based software company that deploys Artificial Intelligence (AI) to help employers in a wide variety of industries improve their customer service call centers. Josh got his start creating innovative technology to improve case management for a social services agency in New Zealand, before coming to America on a Fulbright scholarship to earn an MBA at MIT Sloan. In this episode, they discuss the many applications of Artificial Intelligence, how it helps provide emotional intelligence to augment management practices at large organizations, and how to address some of the concerns about privacy and bias that have been raised around its use.
Guest: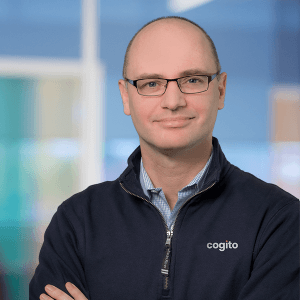 Josh Feast is the CEO and Co-Founder of Cogito, a Boston-based software company with over 200 employees, that uses human-aware technology to instantly analyze hundreds of conversational behaviors. This technology provides live in-call guidance and a real-time measure of customer experience, and is currently used in the world's most successful enterprises. Josh has more than a decade of experience as a senior executive and is regularly quoted in Forbes, Fortune, and The Wall Street Journal. He holds an MBA from the MIT Sloan School of Management where he was the Platinum-Triangle Fulbright Scholar in Entrepreneurship, and a Bachelor of Technology from Massey University in New Zealand.
Guest Host:
Jo Napolitano is an award-winning reporter, having investigated topics in science, education, and immigration for The New York Times, Chicago Tribune, and Newsday. Public education remains her primary focus. She first spotted the trend of public schools turning away immigrant children in 2014, when she was a senior reporter for Newsday. Months of research showed the trend was nationwide and won Napolitano a Spencer Education Fellowship to Columbia University to write her debut book, The School I Deserve: Six Young Refugees and Their Fight for Equality in America. Published by Beacon Press in 2021, the book tracks the progress of new immigrant children as they relocate from Syria and other locations to suburban and rural America. Born in Bogota, Colombia and abandoned at a bus stop days later, Napolitano spent the first months of her life in an orphanage. Adopted and raised by a single parent in New York, she went on to earn a degree from Northwestern University's Medill School of Journalism.
"JobMakers" Host Denzil Mohammed is off this week. Contact JobMakers at denzil@jobmakerspodcast.org.
https://pioneerinstitute.org/wp-content/uploads/Guest-christina-qi-5.png
1570
3000
Editorial Staff
https://pioneerinstitute.org/wp-content/uploads/logo_440x96.png
Editorial Staff
2021-05-27 11:06:06
2021-05-27 11:22:44
Josh Feast Answers the Call with AI