CREDO's Macke Raymond on Charter Schools' Quality & Growth
This week, Cara and Gerard talk with Margaret "Macke" Raymond, President of Stanford University's Center for Research on Education Outcomes (CREDO). Macke describes CREDO's unique role and methodology in analyzing a wealth of data from state education departments to quantify the effect of charter schools on the amount of learning a student receives in a year's time. They discuss charter performance on average, as well as in pockets of excellence; the performance of urban charters, including Boston; the types of charters that are succeeding consistently and replicating; and the formula for quality both in instruction and policymaking. They also delve into the waning policy support for charters despite favorable public opinion; what the data show about whether charters select or "counsel out" students; "diverse-by-design" charter schools; and the federal role in the charter movement.
Stories of the Week: The New York Times highlights renewed interest in teaching phonics, a long-debated approach, especially in the wake of recent NAEP results showing only a third of American students are reading at proficiency. In Maryland, to address students' declining academic performance and teacher retention issues, a state commission is proposing sweeping reforms – but the billion-dollar price tag is raising concerns about accountability for results.
Newsmaker Interview Guest: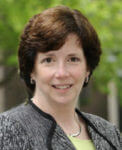 Margaret "Macke" Raymond has served as the Director of CREDO since its inception. She has steered the group to national prominence as a rigorous and independent source for policy and program analysis. She has done extensive work in public policy and education reform, and is currently researching the development of competitive markets and the creation of reliable data on program performance. Macke also leads CREDO in investigating the effectiveness of public charter schools. Prior to joining Stanford in 2000, she held faculty positions in the political science and economics departments at the University of Rochester. Macke also worked for a number of years in the telecommunications industry and was President of Raymond Associates, a private consulting company specializing in public policy research projects and telecommunications policy formulation, from 1985 to 2000.
The next episode will air on February 28th, with guest, Chris Stewart, Chief Executive Officer of Brightbeam.
Commentary of the Week: 
The Boston Globe: "Boston District's High School Graduation Rate Drops to 73%, Gap between Black and White Students Widens Dramatically"
https://www.bostonglobe.com/2020/02/14/metro/bps-graduation-rate-drops/
Tweet of the Week:
Early risers? In 2017-18, high schools in four states (Connecticut, Louisiana, Massachusetts, and New Hampshire) reported their average starting time as being before 7:45 a.m. https://t.co/lrBQ2Qote9 #InTheNews #BehindTheHeadline #EdChat

— Education Next (@EducationNext) February 17, 2020
News Links:
"An Old and Contested Solution to Boost Reading Scores: Phonics" – The New York Times
https://www.nytimes.com/2020/02/15/us/reading-phonics.html
Students failing, teachers fleeing: In Md., calls for sweeping — and expensive — education reform ) – Washington Post
https://www.washingtonpost.com/local/md-politics/students-failing-teachers-fleeing-in-md-calls-for-sweeping–and-expensive–education-reform/2020/02/17/88de4dfc-4e9b-11ea-9b5c-eac5b16dafaa_story.html
Boston District's High School Graduation Rate Drops to 73%, Gap between Black and White Students Widens Dramatically – Boston Globe
https://www.bostonglobe.com/2020/02/14/metro/bps-graduation-rate-drops/
https://pioneerinstitute.org/wp-content/uploads/Jason-Bedrick-EdChoice-5.png
512
1024
Editorial Staff
https://pioneerinstitute.org/wp-content/uploads/logo_440x96.png
Editorial Staff
2020-02-21 11:08:50
2023-08-26 14:08:59
CREDO's Macke Raymond on Charter Schools' Quality & Growth