Montse Alvarado on Protecting Religious Liberty in Schools & Society
This week on "The Learning Curve," Cara talks with Montse Alvarado, Vice President & Executive Director of the Becket Fund, about the implications of the upcoming U.S. Supreme Court school choice case, Espinoza v. Montana Department of Revenue, the pervasiveness of 19th-century, anti-Catholic Blaine amendments across the country, and some of Becket's legal victories in high-profile religious liberty cases. Montse also offers encouraging insights from a recent Becket poll on younger generations' commitment to religious freedom. She shares the inspirational stories of human rights champions recognized by the Becket Fund, such as former Cuban religious dissident and political prisoner Armando Valladares, and the Nobel Prize-winning writer and Holocaust survivor Elie Wiesel.
Stories of the Week:
A new partnership between Southern New Hampshire University and charter school networks in Boston, Chicago, and Texas promises to boost college completion rates for their largely low-income, minority alumni. Three Maine families residing in rural communities with no public high school are battling in a federal appeals court for the religious schools their children attend to be included in the state's out-of-district tuition program. A National Council on Teacher Quality survey of over 100 large school districts shows nearly half offer performance pay based on teacher evaluations – is this the most effective approach to attract and reward excellence?
Newsmaker Interview Guest: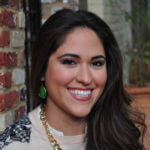 Montse Alvarado joined the Becket Fund for Religious Liberty in 2009 and was named VP & Executive Director in February 2017. With a background in public policy and campaigns, she has led initiatives at Becket in development, communications, strategy, and operations that have helped secure religious liberty victories. Montse has appeared on Univision, CNN en Español, Telemundo, Fox Business, and EWTN. Born in Mexico City, she is fluent in Spanish and French and is a competitive jazz and classical vocalist. Montse earned a Masters from the George Washington University and a B.A. from Florida International University. She tweets @Mmontsealvarado.
Commentary of the Week: The Washington Examiner: "Virginia Walden Ford: Empower Parents with School Choice"
https://www.washingtonexaminer.com/opinion/op-eds/empower-parents-with-school-choice
Tweet of the Week: CBS New York? @CBSNewYork 1.5.20
Thousands are walking across the Brooklyn Bridge for an anti-hate march and rally in support of the Jewish community. Ahead of the march, Gov. Andrew Cuomo and Sen. Chuck Schumer both called for government action to combat hate crimes. https://t.co/cj1GBjcHlj

— CBS New York (@CBSNewYork) January 5, 2020
Next episode's guest: Derrell Bradford, Executive Vice President of 50CAN, January 17th  2020
Newslinks:
Chalkbeat: More charter operators are offering a plan B to alumni who drop out of traditional college. Will it work?
https://www.chalkbeat.org/posts/us/2020/01/08/more-charter-operators-are-offering-a-plan-b-to-alumni-who-drop-out-of-traditional-college-will-it-work/
Portland Press Herald: Families argue in appeal that Maine should pay tuition at religious schools
https://www.pressherald.com/2020/01/08/maine-families-argue-in-appeals-court-that-state-should-pay-tuition-at-religious-schools/
NCTQ: How evaluation ratings impact teacher pay
https://www.nctq.org/blog/How-evaluation-ratings-impact-teacher-pay
Get Updates on Our Education Research
Recent Episodes:
https://pioneerinstitute.org/wp-content/uploads/Copy-of-Search-Canva.png
512
1024
Editorial Staff
https://pioneerinstitute.org/wp-content/uploads/logo_440x96.png
Editorial Staff
2020-01-10 10:32:58
2023-08-26 14:12:57
Montse Alvarado on Protecting Religious Liberty in Schools & Society