Umesh Bhuju Seeks a Fair Deal for Immigrants, Farmers & the Environment
This week on JobMakers, Host Denzil Mohammed talks with Umesh Bhuju, owner of Zumi's Espresso in Ipswich, Massachusetts, about how a business model based on selling nothing but fair-trade products can thrive in a world driven by profit. He describes his early experiences in his homeland of Nepal, where he witnessed child labor, and how that has shaped his pursuit of the American dream. Over the past 20 years, through his successful business, he's been educating Americans about just how far their dollar can go – paying farmers respectable wages, reducing environmental impact, and supporting developing economies; as well as how businesses can catalyze social progress. In this episode, Umesh shares how he has extended his activism to fighting for the rights of immigrants, preserving local habitats, and combatting food insecurity during the pandemic, even as his own business has battled the downturn.
Guest: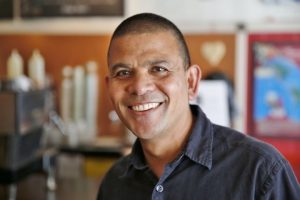 Umesh Bhuju emigrated to America in 1990 from Nepal, where he worked as a mountain guide. He and his wife opened Zumi's in Ipswich, Massachusetts in 2003 and prior to the pandemic, were serving up to 500 customers per day. They specialize in high-quality espresso and coffee beverages that are sourced directly from coffee farms with an emphasis on sustainable, organic, and fair trade practices. They also offer local artisan baked goods and ice cream, and are renowned for their community activism. Umesh earned a B.S. in Business from Boston University and an MBA from Johnson & Wales University.
Get new episodes of JobMakers in your inbox!
Related Posts
https://pioneerinstitute.org/wp-content/uploads/Guest-christina-qi-9.png
1570
3000
Editorial Staff
https://pioneerinstitute.org/wp-content/uploads/logo_440x96.png
Editorial Staff
2021-06-17 10:38:57
2021-06-17 11:49:11
Umesh Bhuju Seeks a Fair Deal for Immigrants, Farmers & the Environment