USED Asst. Sec. Jim Blew Talks Sec. DeVos, School Choice, & K-12 Politics
This week on "The Learning Curve," Cara and Gerard are joined by Jim Blew, the assistant secretary for planning, evaluation, and policy development at the U.S. Department of Education. Assistant Secretary Blew shares lessons from leading and implementing K-12 public education reform efforts in often contentious policy environments, and the unique challenges of the current partisanship and gridlock in Washington, D.C. He describes Secretary DeVos's courageous work on behalf of public and private school choice, as both a public official and private philanthropist, and why it caused such a stir from the national teachers' unions and defenders of the status quo in Congress. The discussion concludes with a focus on the D.C. voucher program, the most successful federally-funded K-12 private school choice program ever established, its future prospects, and the outlook for private school choice programs across the country.
Stories of the Week: The New Hampshire state legislature will move forward on the first phase of a $46 million federal grant-funded initiative to double the number of charter schools, after Democratic lawmakers voted against the grant last year. Lily Eskelsen García rose from school cafeteria worker to president of the National Education Association – will President-elect Biden choose her as the next U.S. Secretary of Education?
Guest: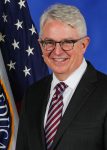 Jim Blew serves as the assistant secretary for planning, evaluation, and policy development at the U.S. Department of Education until January 20, 2021. Prior to joining the Department, Jim advocated for education reform across the country. His roles included serving as director of the 50CAN affiliate Student Success California, national president of StudentsFirst, and national director of the Alliance for School Choice and its predecessor, the American Education Reform Council. Jim also helped guide the Walton Family Foundation's K-12 reform investments for nearly a decade. Before committing himself full-time to education reform, Jim worked at political and communications firms in New York and California. He holds a bachelor's degree from Occidental College and a master's in business administration from the Yale School of Management.
The next episode will air Wednesday, January 6th with Eva Moskowitz, the CEO & Founder of Success Academy Charter Schools.
Tweet of the Week:
Boston has managed to devise vaccines against the virus and has some of the nation's best hospitals. "Why can't we figure out a plan" to get schools open, asks one parent? https://t.co/w9blvybELI #EdChat

— Education Next (@EducationNext) December 8, 2020
Newslinks:
With new GOP leadership, New Hampshire poised to use federal funds to double state charter schools
https://www.concordmonitor.com/With-new-Republican-leadership-New-Hampshire-to-move-forward-on-federal-charter-school-grants-37626989
From School Cafeteria 'Salad Girl' to U.S. Secretary of Education? The Rise of Former NEA President Lily Eskelsen García
https://www.the74million.org/article/analysis-from-school-cafeteria-salad-girl-to-u-s-secretary-of-education-the-rise-of-former-nea-president-lily-eskelsen-garcia/
Get Updates on Our Education Research
Browse recent episodes:
https://pioneerinstitute.org/wp-content/uploads/CarA-Candal-Gerard-Robinson-6.png
512
1024
Editorial Staff
https://pioneerinstitute.org/wp-content/uploads/logo_440x96.png
Editorial Staff
2020-12-16 09:29:07
2021-03-22 13:43:15
USED Asst. Sec. Jim Blew Talks Sec. DeVos, School Choice, & K-12 Politics