Boston Uni.'s Dr. Charles Glenn on School Choice, Civil Rights, & Espinoza
This week on "The Learning Curve," Cara and Gerard are joined by Dr. Charles Glenn, Professor Emeritus of Educational Leadership and Policy Studies at Boston University. Dr. Glenn shares his early experiences as an inner city minister involved in the Civil Rights movement in Massachusetts and the South, the METCO voluntary desegregation program, and the expansion of school choice in several districts beyond Boston. He also discusses his support in the 1990s for bringing the charter school concept to Massachusetts. His work was cited in Justice Alito's concurring opinion in the Espinoza v. Montana Department of Revenue case, and he shares thoughts on the recent decision's potential impact on racial justice and religious liberty. He discusses findings from his decades of research on international education systems, where there is no controversy about government support for faith-based schools, and the lessons for America, where a legacy of anti-Catholicism has impeded school choice. Dr. Glenn concludes with analysis of the strengths and weaknesses of schools of education in preparing effective teachers.
Stories of the Week: Some states such as Florida are grappling with a surge in COVID cases, leaving plans for an August reopening in flux. How should school leaders address questions about virtual learning, outdoor classrooms, and mask and quarantine protocols? Gerard and Cara talked about Dr. Thomas Sowell, the noted Hoover Institution economist, and his recent book, Charter Schools and Their Enemies, on the success and challenges faced by New York City's charter schools.
Guest: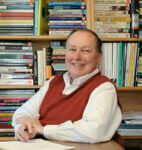 Charles L. Glenn is Professor Emeritus of Educational Leadership and Policy Studies at Boston University. From 1970 to 1991 he was director of urban education and equity for the Massachusetts Department of Education. Glenn has published more than a dozen books on historical and comparative dimensions of educational freedom and on the education of immigrant and racial minorities, most recently Muslim Educators in American Communities (2018). He co-edited a four-volume work with chapters on 65 national systems of education, now available for free download from Johns Hopkins' Institute for Education Policy.
Tweet of the Week:
WATCH: Joe Biden Tells NEA Teachers Union Regarding His Wife, if He's Elected 'You'll Have an NEA Member in the White House' pic.twitter.com/yAGxYHl5xr

— Choice Media (@ChoiceMediatv) July 6, 2020
Newslinks:
AP: Debates turn emotional as schools decide how and if to open
https://apnews.com/dc84344a68c0a4d5209787760ec13ea4
U.K.: An Economist Looks at 90: Tom Sowell on 'Charter Schools and Their Enemies'
https://www.nationalreview.com/corner/u-k-an-economist-looks-at-90-tom-sowell-on-charter-schools-and-their-enemies/
Get Updates on Our School Choice Research
Recent episodes:
https://pioneerinstitute.org/wp-content/uploads/School-Choice-Civil-Rights-Espinoza.png
512
1024
Editorial Staff
https://pioneerinstitute.org/wp-content/uploads/logo_440x96.png
Editorial Staff
2020-07-10 10:21:03
2023-08-26 12:21:54
Boston Uni.'s Dr. Charles Glenn on School Choice, Civil Rights, & Espinoza