NYT Best-Selling Children's Author Carole Boston Weatherford on Fannie Lou Hamer & Race in America
This week on "The Learning Curve," Cara and Gerard are joined by Prof. Carole Boston Weatherford, a New York Times best-selling children's book author, and Caldecott Honor Book and Coretta Scott King Award winning biographer of Harriet Tubman and Fannie Lou Hamer. They discuss the opportunity presented by the national response to the George Floyd tragedy for ultimately improving race relations. Prof. Weatherford discusses the importance of teaching about the lives of African-American heroes and heroines, and their forgotten struggles to overcome adversity; what it means to teach a more complete and less romanticized history that is more inclusive; and how improved curricula, higher expectations, and a diverse faculty can more effectively inspire all children to strive to overcome adversity and empathize with people. She discusses her views on blues music as African-American language in song, and jazz as "the rhythm of daily life"; and how the sophisticated, improvisational artistry of jazz reflects African-Americans' everyday experiences. Lastly, Prof. Weatherford offers a reading of her poem, "SNCC," from her biography of 1960's voting rights advocate Fannie Lou Hamer.
Story of the Week: Protesters in Massachusetts, Virginia, and other parts of the country have vandalized and removed statues of explorer Christopher Columbus this week due to his association with colonization and violence against Native Americans. Will these actions spark constructive dialogue about which historical figures society glorifies and marginalizes, or will they merely rile up Italian-Americans and create further tension? As school winds down for the summer and focus shifts to reopening plans this fall, a new Pioneer Institute report with ASU Prep Digital shows that online learning can work for most special needs students, and highlights the importance of meeting the diverse needs of all learners no matter the circumstances.
The next episode will air on June 19th, 2020 with guest, Diane McWhorter, the Pulitzer Prize-winning author of Carry Me Home: Birmingham, Alabama: The Climactic Battle of the Civil Rights Revolution and the children's book, A Dream of Freedom: The Civil Rights Movement from 1954-1968.
Newsmaker Interview Guest: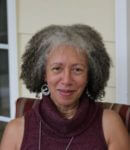 Carole Boston Weatherford is Professor of English at Fayetteville State University in North Carolina. She writes about African-American history, social justice, and jazz. A New York Times best-selling author, she has written 57 books, including Voice of Freedom: Fannie Lou Hamer, The Spirit of the Civil Rights Movement, winner of Caldecott Honor Book, Robert F. Sibert Honor Book, and John Steptoe New Talent Illustrator awards. Moses: When Harriet Tubman Led Her People to Freedom, was winner of an NAACP Image Award, Coretta Scott King Award, and Caldecott Honor Medal. Her young adult debut Becoming Billie Holiday and picture book, Before John Was a Jazz Giant: A Song of John Coltrane, won Coretta Scott King Honors. Birmingham, 1963 won the Jefferson Cup and Lee Bennett Hopkins Poetry Award, and The Sound that Jazz Makes won the Carter G. Woodson Award from the National Council for the Social Studies. Freedom on the Menu: The Greensboro Sit-ins and Remember the Bridge: Poems of a People won the North Carolina Juvenile Literature Award. Weatherford is the winner of a Ragan-Rubin Award for Literary Achievement from the North Carolina English Teachers Association and the North Carolina Award for Literature. She earned a B.A. from American University, an M.A. from the University of Baltimore, and an M.F.A. from the University of North Carolina at Greensboro.
Tweet of the Week:
"Any financial assistance to teacher [pension] plans must be conditional on structural changes that would prevent similar pension funding problems from reoccurring in the future." https://t.co/JoIMfN229f

— Education Next (@EducationNext) June 10, 2020
News links: 
Christopher Columbus statue beheaded in Boston, one in Richmond thrown in lake
https://www.nbcnews.com/news/us-news/boston-christopher-columbus-statue-beheaded-richmond-statue-thrown-lake-n1229201
Experts Find K-12 Online Education Can Be Appropriate for Most Special Needs Students
https://pioneerinstitute.org/covid/experts-find-k-12-online-education-can-be-appropriate-for-most-special-needs-students/
Get Updates on Our Education Research
https://pioneerinstitute.org/wp-content/uploads/Jason-Bedrick-EdChoice-9.png
512
1024
Editorial Staff
https://pioneerinstitute.org/wp-content/uploads/logo_440x96.png
Editorial Staff
2020-06-12 10:50:56
2023-08-26 12:28:01
NYT Best-Selling Children's Author Carole Boston Weatherford on Fannie Lou Hamer & Race in America