NYT #1 Best-Selling Science Author, Dava Sobel on Copernicus, Galileo's Daughter, & Astronomy
This week on "The Learning Curve," Cara and Gerard are joined by Dava Sobel, a former New York Times science reporter, and author of Longitude, Galileo's Daughter, and Letters to Father. Dava describes what inspired her interest in some of the most gifted mathematicians and astronomers in history, including Copernicus and Galileo, and the tensions between religion and science. She discusses the life story of a woman previously hidden from history, Sister Maria Celeste, who was Galileo's daughter. Dava also offers some key lessons from her book, The Glass Universe, about the women who worked at the Harvard College Observatory in the late 19th and early 20th centuries. She concludes by reading her favorite letter from Sister Maria Celeste to Galileo.
Stories of the Week: State and local education officials from across the country are seeking waivers from standardized testing for the upcoming school year. Should the U.S. Department of Education grant them? As we mark the 30th anniversary of the Americans with Disabilities Act, a new report reveals that nearly two-thirds of U.S. public schools contain physical barriers, such as inaccessible door handles and steep ramps, that potentially block access for individuals with disabilities. Are we doing enough to provide options for students with diverse learning needs?
The next episode will air on August 7th, 2020 with Hershel Parker, the H. Fletcher Brown Professor Emeritus at the University of Delaware, and the definitive biographer of Herman Melville.
Interview Guest: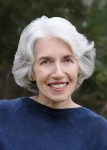 Dava Sobel, a former New York Times science reporter, is the author of Longitude, Galileo's Daughter, The Planets, A More Perfect Heaven, And the Sun Stood Still, and The Glass Universe. She has also co-authored six books, including Is Anyone Out There? with astronomer Frank Drake. Galileo's Daughter won the 1999 Los Angeles Times Book Prize for science and technology, a 2000 Christopher Award, and was a finalist for the 2000 Pulitzer Prize in biography, while the paperback edition enjoyed five consecutive weeks as the #1 New York Times nonfiction bestseller. Ms. Sobel is a longtime science contributor to Harvard Magazine, Audubon, Discover, Life, Omni, and The New Yorker. She received her Bachelor of Arts degree from the State University of New York at Binghamton. Ms. Sobel holds honorary Doctor of Letters degrees from the University of Bath, England, and Middlebury College, Vermont, and also honorary Doctor of Science degrees from the University of Bern, Switzerland, and Simon Fraser University in British Columbia, Canada.
Tweet of the Week:
We're on our way to Mars – me and the almost 11 million names I carry. One home behind us, and a new one ahead. #CountdownToMars

Post-launch Update: https://t.co/ssXuLjQVez pic.twitter.com/fJmK48hTiL

— NASA's Perseverance Mars Rover (@NASAPersevere) July 30, 2020
News Links:
Standardized tests were canceled last school year. Don't count on that happening again, federal official says
https://www.chalkbeat.org/2020/7/24/21337475/us-department-education-coronavirus-testing-waiver-next-school-year
Majority of public schools have physical barriers that limit access for people with disabilities
https://abcnews.go.com/Politics/majority-public-schools-physical-barriers-limit-access-people/story?id=71897126
Get Updates on Our Education Research
Related Content:
https://pioneerinstitute.org/wp-content/uploads/Romantic-Couple-Photo-Twitter-Post-2.png
512
1024
Editorial Staff
https://pioneerinstitute.org/wp-content/uploads/logo_440x96.png
Editorial Staff
2020-07-31 10:45:02
2023-08-26 12:19:37
NYT #1 Best-Selling Science Author, Dava Sobel on Copernicus, Galileo's Daughter, & Astronomy