Post-Pandemic Possibilities: Writer Ramesh Ponnuru Offers Insight On What Comes Next
Host Joe Selvaggi talks with Bloomberg Opinion writer and National Review senior editor Ramesh Ponnuru about the national zeitgeist in a post-Covid, post-President Trump future.
Guest: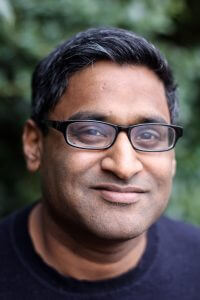 Ramesh Ponnuru is a senior editor at National Review, where he has covered national politics and policy for 25 years. He is also a columnist for Bloomberg Opinion, which syndicates his articles in newspapers across the nation. He is a visiting fellow at the American Enterprise Institute and he serves as a contributing editor to National Affairs, the quarterly journal of conservative ideas. His articles are frequently published in The Wall Street Journal, The New York Times, and The Washington Post. In 2015, he was included in the "Politico 50," Politico's list of "the thinkers, doers, and dreamers who really matter" in American politics.
In 2014, Ponnuru contributed to and (with Yuval Levin) edited the book Room to Grow: Conservative Reforms for a Limited Government and A Thriving Middle Class. New York Times columnist David Brooks called the book "the most coherent and compelling policy agenda the American right has produced this century." Ponnuru was subsequently featured in a New York Times magazine cover story about reform-minded conservatives. In 2013 he was a resident fellow at the University of Chicago's Institute of Politics. He is a regular speaker on policy, politics, and constitutionalism at the nation's leading college campuses and law schools. He also appears regularly on television programs about public affairs. He is the author of a book on the sanctity of human life and American politics and of a monograph on Japanese industrial policy. Previously he has been a columnist for Time magazine and WashingtonPost.com. Ponnuru grew up in Kansas City, Kansas, and graduated from Princeton University. He now lives in the Washington, D.C., area with his wife and three children.
Get new episodes of Hubwonk in your inbox!
Related Content:
https://pioneerinstitute.org/wp-content/uploads/Hubwonk-Template-19.png
512
1024
Editorial Staff
https://pioneerinstitute.org/wp-content/uploads/logo_440x96.png
Editorial Staff
2021-04-20 11:02:47
2021-12-29 12:04:17
Post-Pandemic Possibilities: Writer Ramesh Ponnuru Offers Insight On What Comes Next