Stanford's Prof. Clayborne Carson on Dr. Martin Luther King, Jr.'s Civil Rights Vision & Legacy
This week on "The Learning Curve," co-hosts Gerard Robinson and Cara Candal talk with Dr. Clayborne Carson, the Martin Luther King, Jr. Centennial Professor of History Emeritus at Stanford University and the Founding Editor of The Papers of Martin Luther King, Jr. He describes the larger political and spiritual lessons Dr. King and the other leaders of the Southern Christian Leadership Conference (SCLC) sought to impart regarding nonviolent protest, and the complex relationship among Dr. King, the SCLC, the Student Nonviolent Coordinating Committee (SNCC), and less well-known civil rights figures like the late Bob P. Moses. They discuss how hymns and literary works such as Langston Hughes's 1951 poem "Harlem (A Dream Deferred)," strongly influenced Dr. King's sermons and speeches. Dr. Carson compares how racial issues have differed in Southern and Northern cities, noting MLK's 1966 Chicago Campaign. They explore whether K-12 U.S. history instruction sufficiently covers the Civil Rights era compared to other important periods, and Dr. Carson offers insights on how policymakers, schools, and parents can draw on lessons from the Civil Rights era to better understand race in America. He concludes with a description of the World House Documentary Film Festival, a free, four-day webinar and virtual film festival celebrating MLK, beginning on January 14th.
Stories of the Week: In London, staff shortages from a spike in COVID cases have forced many early education programs to reduce their hours of operation or close. In an era in which technology is replacing books, how can we ensure our children develop the habits that lead to lifelong reading? An EdWeek story explores this question, which is important because long-form and pleasure reading are linked with higher academic performance.
Guest: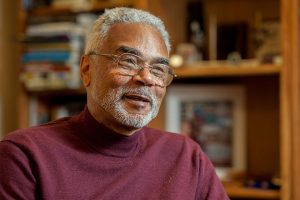 Dr. Clayborne Carson is the Martin Luther King, Jr. Centennial Professor of History Emeritus at Stanford University and Founding Director of the Martin Luther King, Jr. Research and Education Institute. Under his direction, the King Papers Project has produced seven volumes of The Papers of Martin Luther King, Jr., a definitive edition of King's speeches, sermons, correspondence, publications, and unpublished writings. He is also the author of numerous books on the Civil Rights era, including: In Struggle: SNCC and the Black Awakening of the 1960s and Martin's Dream: My Journey and the Legacy of Martin Luther King, Jr. A Memoir.
The next episode will air on Weds., January 19th, with guest, Ian Rowe, a senior fellow at the American Enterprise Institute, where he focuses on education and upward mobility, family formation, and adoption.
Tweet of the Week:
.@nytimes highlights DFER polling of VA gubernatorial voters that showed prolonged school closures was a concern among parents when casting their ballots. https://t.co/bPNFgCnRWq

— DFER (@DFER_News) January 8, 2022
News Links:
Nurseries in England hit by staff absences after soaring Covid cases
https://www.theguardian.com/education/2022/jan/10/nurseries-england-staff-absences-covid-early-years
How to Nurture Lifelong Readers in a Digital Age
https://www.edweek.org/teaching-learning/how-to-nurture-lifelong-readers-in-a-digital-age/2022/01
Get new episodes of The Learning Curve in your inbox!
Recent Episodes:
https://pioneerinstitute.org/wp-content/uploads/Copy-of-TLC-template-56.png
512
1024
Editorial Staff
https://pioneerinstitute.org/wp-content/uploads/logo_440x96.png
Editorial Staff
2022-01-14 09:21:20
2022-01-14 11:42:56
Stanford's Prof. Clayborne Carson on Dr. Martin Luther King, Jr.'s Civil Rights Vision & Legacy