Nina Rees on the 30th Anniversary of Charter Public Schools in America
This week on "The Learning Curve," Gerard and Cara celebrate the 30th anniversary of charter schools with Nina Rees, President and Chief Executive Officer of the National Alliance for Public Charter Schools. They discuss recent research showing that African-American and low-income students in charter public schools outpace their peers in traditional district schools. Stanford's Center for Research on Educational Outcomes (CREDO) and other sources have shown that Boston's charter public schools lead all the nation's urban public schools in terms of academic performance and bridging achievement gaps. Yet, special interests and policymakers have been calling for stringent limitations and regulations on these schools and their growth. Nina offers insights on where the right-left charter school coalition stands and how to bridge recent partisan divisions. She shares thoughts on how the sector can grow despite the rising influence of teacher unions in states with some of the highest-performing charters. Nina also describes efforts charter schools have made to become leaders in increasing teacher diversity, and they explore how teacher- and school-driven improvements in charters such as KIPP may hold the key to the future of K-12 education reform.
Stories of the Week: In Maine, a state scholarship program that assists families with tuition for public or private schools – but not religious schools – may become the subject of a U.S. Supreme Court case. President Biden's American Families Plan includes $9 billion to address the nation's teacher shortage, providing funding for teacher preparation, professional development, and retention programs, as well as initiatives to increase teacher diversity.
Guest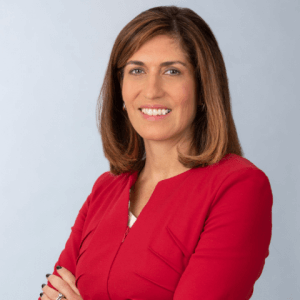 Nina Rees is President and Chief Executive Officer of the National Alliance for Public Charter Schools. Previously, Ms. Rees was Senior Vice President for Strategic Initiatives with Knowledge Universe. Rees worked for over 15 years in Washington, D.C., most recently as the Assistant Deputy Secretary for Innovation and Improvement at the U.S. Department of Education. Rees also served as a domestic-policy adviser to the Vice President of the United States.
Tweet of the Week
A review of my new book, Maverick: A Biography of Thomas Sowell https://t.co/ut4ueUxLMx @ManhattanInst @BasicBooks @ThomasSowell

— Jason Riley (@jasonrileywsj) June 7, 2021
News Links:
IJ/Bindas: The History Behind the Next Landmark School Choice Case
https://www.ncregister.com/blog/history-behind-next-landmark-school-choice-case
Biden wants to fix the nation's teacher shortage. Educators say the problem is worsening.
https://www.nbcnews.com/politics/joe-biden/biden-wants-fix-nation-s-teacher-shortage-educators-say-problem-n1269340
Get new episodes of The Learning Curve in your inbox!
Related Posts:
https://pioneerinstitute.org/wp-content/uploads/Copy-of-TLC-template-15.png
512
1024
Editorial Staff
https://pioneerinstitute.org/wp-content/uploads/logo_440x96.png
Editorial Staff
2021-06-09 11:51:32
2023-08-26 10:42:54
Nina Rees on the 30th Anniversary of Charter Public Schools in America