Stanford's National Humanities Medal Winner Prof. Arnold Rampersad on Langston Hughes & Ralph Ellison
This week on "The Learning Curve," Gerard and Cara talk with Professor Arnold Rampersad, the Sara Hart Kimball Professor Emeritus in Humanities at Stanford University and recipient of the National Humanities Medal for his books including The Life of Langston Hughes and Ralph Ellison: A Biography. They discuss what teachers and students today should know about Langston Hughes's celebrated literary life and poetry, including his influence on African-American literati during the Harlem Renaissance, and how his works, such as "Harlem (A Dream Deferred)" and "Mississippi –1955," impacted the Civil Rights Movement. They then turn to Ralph Ellison, whose 1952 novel, Invisible Man, is among the greatest works of 20th-century American fiction. Professor Rampersad shares the major formative experiences and intellectual influences on Ellison's life and writing, including his Oklahoma upbringing, Tuskegee Institute education, and interest in literary figures such as Dostoevsky, Hardy, Melville, Twain, and Faulkner. He also offers insights on the connection between the writings of Hughes and Ellison, and blues and jazz music, with its complexity and exploration of suffering. Professor Rampersad concludes the interview with a reading from his biography of Ralph Ellison.
Stories of the Week: In an effort to stem COVID-related learning loss, more than 230 public schools in Hawaii will offer summer school on campus for free, using federal relief funds. In Baltimore, high school students started a mentorship program to help younger peers on topics such as financial assistance, standardized testing, and course selection.
As the episode was being recorded, this breaking international news story was announced: "Derek Chauvin found guilty on all counts in the murder of George Floyd." Our co-hosts mentioned it during the interview, though they will explore it in greater detail during their commentary on the next episode.
Guest: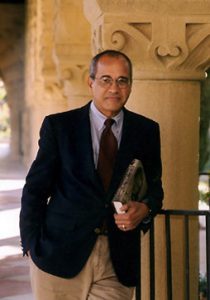 Arnold Rampersad is the Sara Hart Kimball Professor Emeritus in the Humanities at Stanford University. A graduate of Bowling Green State University, he earned his Ph.D. in English and American Literature at Harvard. He also taught at the University of Virginia, Rutgers, Columbia, and Princeton. His books include The Art and Imagination of W.E.B. Du Bois; The Life of Langston Hughes (2 vols.); Days of Grace: A Memoir, co-authored with Arthur Ashe; Jackie Robinson: A Biography; and Ralph Ellison: A Biography. His edited volumes include The Oxford Anthology of African-American Poetry; Complete Poems of Langston Hughes; and, as co-editor, Selected Letters of Langston Hughes. Winner in 1986 of the National Book Critics Circle Award in biography and autobiography, he was later a finalist for the Pulitzer Prize in biography and, in 2007, the National Book Award in non-fiction prose for his biography of Ellison. He won fellowships from the MacArthur Foundation (1991-1996), the J.S. Guggenheim Foundation, the NEH, the Rockefeller Foundation, and the ACLS. Princeton University awarded him its Howard T. Behrman Medal for distinction in the Humanities. In 2011, he received the National Humanities Medal from President Obama at the White House, and Harvard awarded him its Graduate School of Arts and Sciences Medal in 2014. He holds honorary doctorates from Harvard, Yale, Columbia, and the University of the West Indies, among other schools. He is a member of the American Academy of Arts & Sciences and the American Philosophical Society.
The next episode will air on Wednesday, April 28th, 2021 at 12 pm ET with guest, Dr. Marguerite Roza, Research Professor and Director of the Edunomics Lab at Georgetown University.
Tweet of the Week:
My latest @WSJopinion oped with Joe Ricketts.

In post-Katrina New Orleans, Louisiana built a system that serves the needs of students, not adults.

The rest of the country now has the same opportunity. https://t.co/pmMnoznXMk

— Gov. Bobby Jindal (@BobbyJindal) April 10, 2021
News Links:
Hawaii public schools to offer free summer school
https://www.staradvertiser.com/2021/04/18/hawaii-news/hawaii-public-schools-to-offer-free-summer-school/
Teens at a Baltimore County magnet school saw a need adults couldn't meet. So they stepped in to mentor others
https://www.baltimoresun.com/education/bs-md-eastern-tech-mentors-20210419-xlgktww4pnempa6a3xjathgfxu-story.html
Get new episodes of The Learning Curve in your inbox!
Related Posts
https://pioneerinstitute.org/wp-content/uploads/Copy-of-TLC-template-8.png
512
1024
Editorial Staff
https://pioneerinstitute.org/wp-content/uploads/logo_440x96.png
Editorial Staff
2021-04-21 10:42:42
2023-08-26 10:48:02
Stanford's National Humanities Medal Winner Prof. Arnold Rampersad on Langston Hughes & Ralph Ellison