Dr. Lindsey Burke on LBJ's True Education Legacy
Dr. Lindsey Burke of the Heritage Foundation talks with co-host Bob Bowdon about her new book, The Not-So-Great-Society, co-edited with Jonathan Butcher, which includes contributions from top policy experts. They explore why Lyndon Johnson's "Great Society" is an inflection point for federal intervention in local school policy. The constitutionally limited national role in K-12 education grew exponentially after 1965, to the present day, where the U.S. Department of Education has a staff of 4,000 and an annual budget of $70 billion, not to mention programs housed in other agencies, such as Head Start, which has cost $250 billion since it was established. To meet the expansive federal mandates and regulations, non-teaching and administrative staffing has dramatically increased. The question is: Has this fundamental transformation in local education policy led to progress in student performance?
Stories of the Week: A surveillance company, "Gaggle," is using AI tools to monitor 5 million students' writings and social media posts for "harmful" content in an effort to "stop tragedies" – but is spying on our kids the answer? Former presidential candidate and California Senator Kamala Harris has introduced a bill to extend the school day to 6 p.m. to align with parents' work schedules – a welcome modernization or a slippery slope to more federal intrusion? In New York, a teacher suspended in 1999 for sexual harassment who can't be fired because of tenure rules and bureaucratic delays, is receiving a salary of over $130,000 despite being barred from the classroom.
Newsmaker Interview Guest: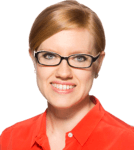 Dr. Lindsey Burke is the director of the Center for Education Policy and the Will Skillman Fellow in Education Policy at the Heritage Foundation, where she oversees research and policy on preschool, K-12, and higher education reform. Burke's work has appeared in numerous magazines and newspapers, and she is a frequent guest on radio and television shows. She has published evaluations of education choice options for public policy foundations across the country, and worked to develop and evaluate education savings accounts. She serves as a fellow at EdChoice. Lindsey holds a bachelor's degree from Hollins University, a master of teaching degree in foreign language education from the University of Virginia, and a Ph.D. in education policy from George Mason University. She tweets at: https://twitter.com/lindseymburke
https://www.heritage.org/staff/lindsey-burke
Commentary of the Week: Jay Greene and Rick Hess in National Review: "America's Students Flounder while Education Reformers Virtue Signal"
https://www.nationalreview.com/2019/11/school-reform-struggles-virtue-signaling-ignores-student-performance-stagnation/
Tweet of the Week:
"We have a national policy called Every Student Succeeds, yet there's really nothing in that policy that demands or even incentivizes changes in the status quo that would likely yield success," says @Kress_Sandy. https://t.co/FcyxxymtNy

— Education Next (@EducationNext) November 4, 2019
Correction from Bob: Not sure if I misspoke or if it was a recording glitch, but there are 1,400 schools working with Gaggle, not "14." Thanks for listening!
Story links:
Schools Are Paying Big Money to a Surveillance Service that Monitors 5 Million Students Who Can't Opt Out
https://www.buzzfeednews.com/article/carolinehaskins1/gaggle-school-surveillance-technology-education
Kamala Harris Introduces Bill to Keep Schools Open Until 6PM, Only Close for Weekends, Federal Holidays and Emergencies
https://www.motherjones.com/politics/2019/11/the-school-day-is-two-hours-shorter-than-the-work-day-kamala-harris-wants-to-change-that/
NYC Teacher Permanently Exiled to 'Rubber Room' 20 Years Ago over Sex Abuse Claims Now Makes $132,753 Per Year
https://nypost.com/2019/11/02/nyc-pays-rubber-room-teacher-six-figures-20-years-after-sex-abuse-claims/
Commentary:
America's Students Flounder while Education Reformers Virtue Signal
https://www.nationalreview.com/2019/11/school-reform-struggles-virtue-signaling-ignores-student-performance-stagnation/
https://pioneerinstitute.org/wp-content/uploads/the-learning-curve-1.png
512
1024
Editorial Staff
https://pioneerinstitute.org/wp-content/uploads/logo_440x96.png
Editorial Staff
2019-11-08 14:08:07
2023-08-26 14:18:43
Dr. Lindsey Burke on LBJ's True Education Legacy