Dinesh Wadhwani Clears the Air with Light Technology
This week on JobMakers, host Denzil Mohammed talks with Dinesh Wadhwani, founder and CEO of ThinkLite, LLC in Natick, Massachusetts, and immigrant from Ghana. His journey began when his grandfather was forced to flee India, and built a business in Ghana that paved the way for the generations to come. When Dinesh moved to the United States in 2008 as a student at Babson College, he was determined to build a life and a business here in the U.S. While he was studying entrepreneurship, he became one: in just a few short years, his technology-based life science solutions business expanded across the globe and evolved into a life-saving enterprise, purifying the air in hospitals during the COVID-19 pandemic, as you'll learn in this week's JobMakers.
Guest: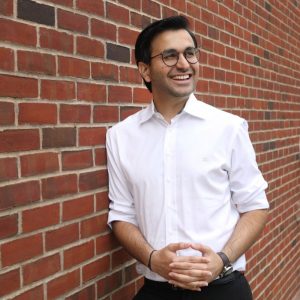 Dinesh Wadhwani, Founder and CEO of ThinkLite, is an industry expert and serial entrepreneur in the electronics and optics industries. ThinkLite is currently present in 14 countries worldwide, owns several patents, and works with Fortune 500 companies, townships and enterprises across the globe. Dinesh works with his close-knit team of engineers to create "high value add" lighting solutions that solve larger problems beyond efficiency. Examples include pharmaceuticals, agriculture, poultry, data centers, general health and most recently, a technology solution that is able to track the levels of pathogens in the air in indoor public areas and facilities, including COVID-19, amongst other viruses; so that they can be addressed, and managed effectively to maximize safety in a facility. Dinesh has been a nominee for The Immigrant Learning Center's Immigrant Entrepreneur Awards. He was recognized by Inc. Magazine's 2015 top under 30 Entrepreneur of the Year; a "Top 50 Power Influencer in Massachusetts, 2018" by Boston Business Journal, and has been recognized by the White House as being part of the top young entrepreneurs in the country, creating high impact and employment in the USA.
Get new episodes of JobMakers in your inbox!
Related Posts
https://pioneerinstitute.org/wp-content/uploads/Guest-christina-qi-20.png
1570
3000
Editorial Staff
https://pioneerinstitute.org/wp-content/uploads/logo_440x96.png
Editorial Staff
2022-02-17 11:44:50
2022-02-17 11:44:50
Dinesh Wadhwani Clears the Air with Light Technology